Books About Cunnilingus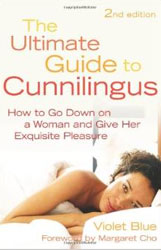 The Ultimate Guide To Cunnilingus: How to Go Down on a Woman and Give Her Exquisite Pleasure
Truly the bible of oral sex, The Ultimate Guide to Cunnilingus gives excellent advice, encouragement, and helpful instruction to those who want to expand their expertise or are simply curious about the art's finer points. In her clear, concise, and informative text, sex educator Violet Blue provides step-by-step instructions for going down on a woman, as well as accurate and up-to-date information on female anatomy and sexual response. In her friendly, witty tone, Blue dispatches fascinating facts and discusses games for lovers, positions, safety, and a variety of techniques; she also offers erotic book and DVD recommendations, and tips for effective communication during the act itself. Featuring helpful illustrations and erotica by sexpert Alison Tyler, this is the essential guide to going down.
Available from: Amazon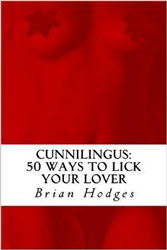 50 Ways To Lick Your Lover
50 ACTUAL ways to lick your lover! Want to master the beautiful art of cunnilingus? You can now learn everything you ever wanted to know about pleasuring the vagina with your mouth... but were too afraid to ask about. This is the most comprehensive book ever made on woman focused oral sex, including 50 mild to wild techniques to try on your lover. This book is the master collection of years of research into various techniques, movements, patterns, speeds, directions, pressure points, and general combinations as it relates to her most feminine of openings. Forget an orgy or a three-way; you can have more fun 1 on 1 just following this book. Open a bottle of wine. Take off her shirt. Take off her bra. Light a candle as she gets topless. Admire her nipples getting hard in anticipation. Take off her pants, so she is almost naked. Take off her panties, so she is fully nude. Lay her down on her back. Open her legs. Then, try any quantity or combination of the 50 steps to really light her fire. This book Includes 100+ illustrations with explanatory text. Straight men, as well as new lesbians can benefit from the techniques in this book. You will travel from her breasts to her ass exploring all of her erogenous zones, but will focus on the most important target; her clitoris, or "clit". Some people will view this as XXX, porn, or NC-17, and it is likely to be banned by some countries... but what it truly is... is a beautiful oral version of the Kama Sutra. Oral meets tantric, with 50 easy to follow steps and ideas to try. Find her own favorite combination of techniques, and keep improving on it....
Available from: Amazon.com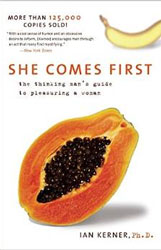 She Comes First: The Thinking Man's Guide To Pleasuring A Woman
Ian Kerner offers a radical new philosophy for pleasuring women in She Comes First—anessential guidebook to oral sex from the author of Be Honest—You're Not That Into Him Either. The New York Times praises Kerner's "cool sense of humor and an obsessive desire to inform," as he "encourages men through an act that many find mystifying." An indispensable aid to a healthier, more fulfilling sex life for her and him, She Comes First offers techniques and philosophy that have already earned raves from the likes of bestselling author and Loveline co-host Dr. Drew Pinsky as well as Playgirl magazine, which cheers, "Hallelujah!"
Available from: Amazon.com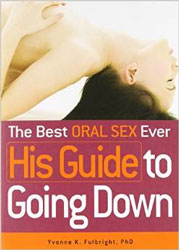 The Best Oral Sex Ever: His Guide To Going Down
Eating out has never been so hot. Sexologist Yvonne K. Fulbright exposes the facts and fantastic tricks oral sex aficionados live by in her brazen how-to for men.
This guide gives you the tools you need to thrill her every night, including:
Making cunnilingus the evening's main course or the first stop in a night of multiple orgasms
Techniques from the sacred "Flutter of the Butterfly" to modern Oral Sex Acrobatics
How to overcome any woman's oral sex hangups
How to broach the subject of wanting to give her oral sex--even when it makes her nervous
Packed with the most erotic ideas for pleasuring her, this men's manual will send you running for the covers.
Available from: Amazon.com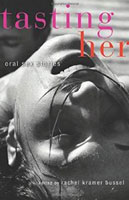 Tasting Her: Oral Sex Stories
The primal sense of taking in the essence, taste, smell, and sexy up-closeness of a lover is a powerful aphrodisiac that affects one physically, mentally, and emotionally. Once this special connection is made, the heat of desire, passion, and lust focus before one's eyes and tie arousal directly to them. Tasting Her explores the ultimate joys of oral sex from a distinctly male point of view.
"Every male dom knows that cunnilingus is the key to melting his female sub into a puddle of ultimate surrender. That's why this unabashed and intoxicating series of oral sex stories should offer a bit of spice to your bookshelf—and bedroom."
—After Dark LA
Available from: Amazon.com